How Meat Store App helps owners stay in online business
The meat business is the one that has seen the transformation ever since the Coronavirus pandemic spread throughout the world. Consumers have begun preferring buying meat, pork, beef, chicken, ham from online stores, websites, and meat store app. The pandemic is a bad thing that happened in 2020, but it triggered the digital trend. Several big companies have taken their business online and are serving the customers.
The Pandemic Triggered a Significant Loss Meat Shops
As the meat stores were doing their business without taking it online, they were struck by the pandemic. It has been a long period as the lockdown continued in many parts of the city. The shops have lost customers as no one is ready to buy food items from the shelves as well as cabinets.
Big brand names that sell meat, food items, and other household products use a specialized mobile application. It also takes a considerable amount of stress and human hours to maintain the website and the mobile app. They do attract licensing fees to stay online for hosting and paying to the app development companies.
So, how should these shops maintain their business and earn efficiently for their families? Is there a solution? Yes, Phygital24 has developed a solution that is focused on meat shops.
Meat stores are in the middle of digitalization
Big names in retail are already paving their roads to success with mobile apps. But meat stores are now slowly picking up the pace.
Businesses already know that mobile applications are a great way of boosting the brand's name as many companies are getting into the meat market. More prominently, mobile apps provide customers easy access to products 24/7 while at the same time curating their shopping experience.
And since it's all about a data-driven market, meat store apps provide customers with essential information and collect, track, and analyze valuable amounts of data.
Taking the Meat Store Business Online
We can not reject the fact that COVID-19 has fractured everyday living. The whole world experienced a lockdown, and people have shut themselves in their respective homes. But, businesses require new ways to reach the customer's needs by finding methods best for sales.
The essentials must cope with customer demands while they stay at home. It gave rise to the meat industry, and the digital era has helped boost the very same. Stores have almost left their brick stores and transferred to online retailing.
It is among the easiest ways to tackle the changes by offering a home shopping experience to consumers. Suitable for both parties, it helps in growing the business too.
How Meat Store App Helps Sustain Business Online?
Online meat, pork, beef, chicken, ham shopping is an excellent opportunity for the meat business to flourish; the meat app helps connect with the consumers. It bridges the gap between customer demands and how to offer them products online.
It is the best resource to safeguard these meat stores. Customers are happy as their orders are received from the nearest meat shop direct at their homes. People who used to visit the small meat stores in their area can conveniently locate them online using this app.
Phygital24 mobile ordering system is available and works on both iOS and Android platforms.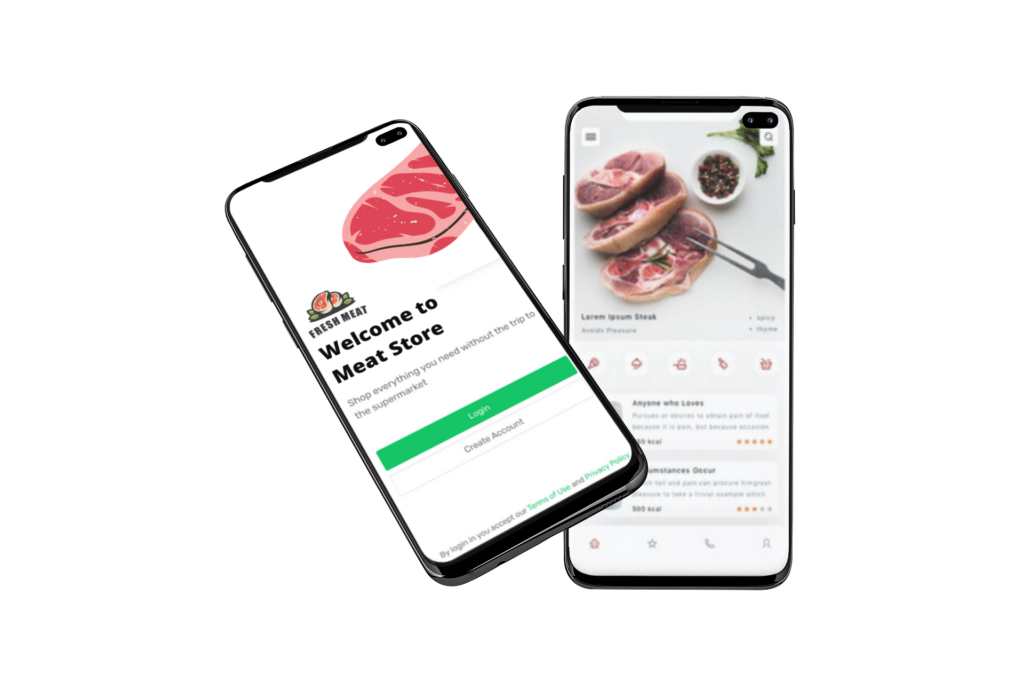 One Final Thought
Shopping preferences are shifting yet again. Price is no longer the most critical factor in boosting sales. Customers are looking for value, so they want a streamlined shopping experience, quality items, enhanced customer service, and a whole lot more.
They also demand various information, including product information, recipes, tips, or purchase recommendations.
It's necessary to build emotional connections. Apps must motivate customers to shop, spend more, and remain loyal. More importantly, a tailored in-store shopping experience can ensure buying is satisfying and an easy task.
Wrap It Up
Online Meat Store App has made shopping easy for the customer and the meat store owners. The customers can pick from their nearest store, and thus it meets the customer demands for essential products during this pandemic. However, there are many other reasons your business should go on the internet. Make your meat business online and grow your customer opportunities. Thus, Phygital24's mobile ordering System will provide your meat store with numerous features that will increase your sales even further.
Want to learn more? Schedule a Demo Now!
info@phygital24.com | Phygital24.com