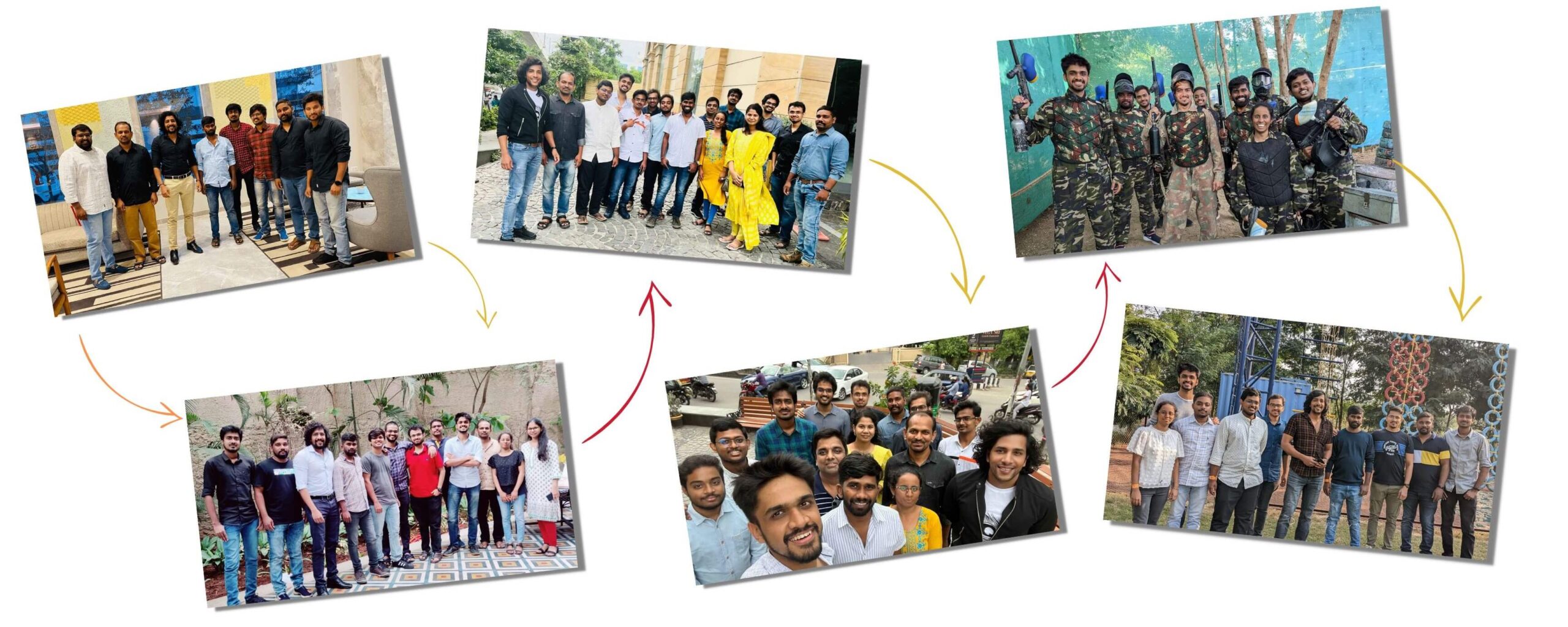 Here's what our employees have to say
Phygital24 is an employee first organisation. The employee friendly policies and culture has made our lives easier. We get to work on challenging problems with the smartest people and experience the joy of building and creating an impact here. I grow everyday!
Phygital24 is a great place to work, it provides complete freedom to me in decisions related to design. Its been almost 4 years I've been part of this awesome organization, and every single day I get something to learn and grow professionally. Phygital24 provides great work life balance so that I can spend time with my family and kids. I am proud to be part of Phygital24, its a great place to work.
I started working at Phygital24 in 2019. The best thing about working at Phygital24 is the super cool team and the learning opportunities we get here. Founders are always receptive to our ideas and with co-employees, I never felt like there is a manager, junior developer, or senior developer, we were like a family working towards a single goal of making an awesome product that would help the Grocery and restaurant industries. And professionally we get exposure to cutting-edge technologies and use them in our applications which help us to be more relevant in the market.
"Working as a Software Engineer at Phygital24 I never felt I am working under someone. I always have complete ownership of the features I am working on. Managers and Stake Holders are always receptive about what I have to say and they are very friendly in nature treating everyone with equal importance and respect. One more advantage at Phygital24 is the work times are flexible as long as your timings don't hinder the collaborative process. As a developer I like to work on new technologies and that is exactly what we do here at Phygital24."
"Been working here for 4 years, Great team, great product and has great learning opportunity and freedom to express any new ideas. Great work life balance with highly supportive upper management. "
I started my career as a Software Developer intern with Phygital24. At the start, everything was new to me. There were many things that I did not know in my college days but here I got a chance to learn them. I started working on live products in few months, I got to learn through hands-on-experience which helped me to think independently.The thing that I like here is everyone is friendly and approachable and the best thing is everyone's input is valued. I am happy to be part of this company and looking forward to learn more and contribute my best.
I joined phygital24 with intent to learn new things, expand my expertise on the skills I already have and grow in professional life. Phygital24 has been very supportive and encouraging. I enjoy and look forward to showing up for work everyday because of my amazing team. I work with some of the brightest, friendliest and most hardworking people. Everyday is a new opportunity for me to learn and grow.
"Working with Phygital24 for more than a couple of years and just love its employee friendliness nature. During my initial days, I was very new to this domain; thanks to all the training and support from colleagues and superiors who helped me to develop my expertise within a short span. I enjoy regular meetings with CEOs/leaders/top-level managers from the industry. Learning about the cutting edged eCommerce technologies has always fuelled my interest in working with Phygital24. We get recreational activities in every organization, but the most likable policy in Phygital24 is to provide the necessary freedom to its employees in owning problems, allowing them to work towards finding the solutions without being hindered by the management, and let them celebrate the success…"
"I was not looking for a job, I was looking for a mission." "I love working for a company that inspires me, products that I am passionate about, a position that challenges me and stretches me out of my comfort zone, and a work environment that empowers and encourages me. Phygital24 meets all of these criteria. It's a forward-looking company. Being part of a team that gives its best to shape the next generation, along with the mindset and culture, is what appeals to me most about the company. This is more than just a job to me."
The company trusted me from the first day I was hired. In my opinion, the company has an excellent culture and mindset. Phygital24's environment is super fun to work, and it feels like being part of something bigger.
Phygital24 hires THE BEST people, and I've always found it easy to fit in, and learn new faces. I was heard and trusted from day1 and I am grateful for all the support for my professional development. What I like to have by the end of the day is a sense of accomplishment. I look forward to making the most of my day. What I love most about my job is work environment, the freedom to create a way of working that works best for me. I have always loved that the managers I've did not micro-manage, and i have proven that they don't need to. We have a wide range of ready master catalog where users can just select in a single click which is an amazing facilitate for sure. The most enjoyable part of the job was the interaction with clients. Our mission is to bring inspiration and innovation to every e-commerce business person and help them to boost up their sales in super faster way in online.
Phygital24 has been a booster to my career. The team is always thriving to make the best product and very supportive in new ideas.
As a Software Developer Intern at Phygital24, I have been introduced to fast paced and dynamic work environment. There is not even a single day without a new challenge and learning opportunity. Every new challenge here helps me to explore different aspects of the problem and come up with an efficient solution. Everyone in the team is very supportive and does not hesitate to answer any query raised.
Absolutely loved working with phygital24. Joined as a Software Developer Intern and I have to say it is one of the most positive environments I've ever worked in. Everyone here is so helpful and fun to be around. The work itself can get a little stressful but that comes with any job. But every day exploring different types of challenges and solving them by learning totally, it was fun phased learning and approaching with an efficient solution. Ultimately, I'm really happy with where I work.
As a Software Developer Intern at Phygital24, I got exposed to fast paced development environment and constantly learning about the new things that helps me to tackle the challenges that occur during the developement and leaned about how develop the product that customer actually desires (customer centric) ,and phygital gave me ability to think the problem in multiple aspects and coming to the phygital 24 team, giving constant support to the interns and helping them to overcome the challenges they faced during the challenges .
What I like about my work is the collaborative environment and freedom to share thoughts and clarify doubts What I like about the company is it had a great values to individuals and a great vision on what can we do as a group
As a newbie in the tech industry at Phygital24, I've had to learn a lot of new concepts, and tools. It's been a lot to take in, but it's been a great learning experience. My work place gives me space to take initiative and work on my own way and that's been really helpful. Treating adults as adult and let them work without micro-managing is a concept that many companies need to learn. I've also had to learn how to work with other teams, and collaborate effectively. It's been a challenging journey, but also a rewarding one.
OUR FIVE STAGE RECRUITMENT PROCESS
We review applications
to screen for a variety
of criteria.
Candidates are asked to
submit answers to
questions via video or to
have an intro call with
one of our recruiters.
We conduct online
interviews to get to
know you better.
Finalists complete a
multi-day task.
We make an offer to the
candidate we feel is the
best for the role.
OUR ENGINEERING RECRUITMENT PROCESS
FOR OUR ENGINEERING ROLES, WE FOLLOW A SLIGHTLY DIFFERENT PROCESS
We are looking for talented people
Write to us at hr@phygital24.com if you don't find an opportunity that excites you here.